Sika Stag / Wild Goat Hunting (Ireland)
Thrilling hunting experiences awaits you on the "green" island. County Kerry which is situated in the southwest of Ireland is well known for its huge population of the original Japanese Sika Deer. Each season more than 100 Sika Stags are shot of mainly average 6-8 pointer trophy size.
County Kerry offers unique scenery with a pristine landscape of mountains, valleys, moors and woodlands. Hunting takes place in both the highlands and the wooded areas on the low-ground. Best time for Sika Stag stalking is during the rut from late September until late October.
It may also be possible to combine the Sika Stag stalking with hunting the mountain Wild Goat.
The hunter will usually get a good opportunity to shoot on average 2-3 sika stags during 3-5 days hunting 1:1 or 2:1.
Best time for Sika Stag & Wild Goat stalking in Ireland:
from late September until late October
Open stalking season for Sika Stag: 1 September to 31 December
Open stalking season for Sika Hinds: 1 November to 28 February
Open stalking season for Wild Goat: No close season
1-8 hunters per group (1:1 or 2:1)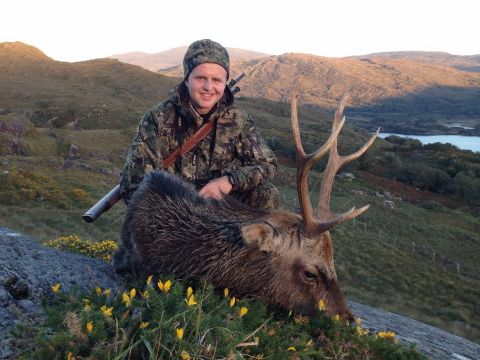 Scotsport's Sika Stag / Wild Goat Hunting (Ireland) location