Muntjac & Chinese Waterdeer Hunting
During the autumn and winter time Scotsport can offer excellent Muntjac hunting and Chinese Waterdeer (CWD) hunting on various estates in Cambridgeshire, South East England, covering more than 10,000 hectares of mixed woodland, fields and meadows.
Muntjac hunting can also be combined with hunting Chinese Waterdeer.
More than 70 Muntjac and Chinese Waterdeer bucks are shot each year, with some excellent medal class trophy heads.
Hunting is let for 2-3 days hunting (4-6 outings) 2:1 or 1:1, although the number of outings can be arranged according to individual requirements. The average expectation is 1 buck per hunter per day.
Best time for Muntjac & CWD hunting in England: from November until late March
Open hunting season for Muntjac: All year
Open hunting season for Chinese Waterdeer: 1 November – 31 March
 1–4 hunters per party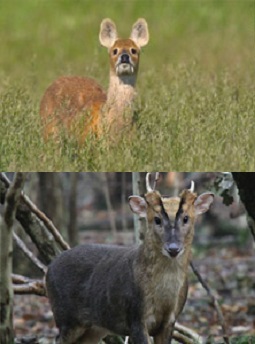 Scotsport's Muntjac / CWD Hunting (England) hunting locations